Synopsis: Les derniers mois tumultueux du mandat du 16e Président des États-Unis. Dans une nation déchirée par la guerre civile et secouée par le vent du changement, Abraham Lincoln met tout en œuvre pour résoudre le conflit, unifier le pays et abolir l'esclavage. Cet homme doté d'une détermination et d'un courage moral exceptionnels va devoir faire des choix qui bouleverseront le destin des générations à venir.
La fiche du film
Avec :
Daniel Day-Lewis, Sally Field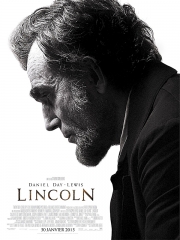 « Lincoln » s'appuie sur le livre de Doris Kearns Goodwin, « Team of Rivals« .   Steven Spielberg est fasciné par le personnage d'Abraham Lincoln, depuis l'âge de sept ans. Une fois les droits du roman acquis, le projet n'a cessé d'être repoussé .Au départ, Liam Neeson était pressenti pour incarner le rôle-titre, qui aurait marqué sa deuxième collaboration avec Spielberg après « La Liste de Schindler ». Néanmoins, le biopic fut trop long à voir le jour et l'acteur irlandais a finalement déclaré qu'il était aujourd'hui trop âgé pour jouer le 16ème président des Etats-Unis d'Amérique.
Daniel Day-Lewis, qui reprend le rôle, avait campé Bill Le Boucher, un personnage totalement opposé à la politique d'Abraham Lincoln dans le film de Martin Scorsese, « Gangs of New York ».
Après que Daniel Day-Lewis ait travaillé sa voix pour coller à celle d'Abraham Lincoln, l'acteur a envoyé une cassette audio à Steven Spielberg pour avoir son aval. Ladite cassette se trouvait dans une boîte affublée d'une tête de mort, sorte d'avertissement afin que Spielberg soit le premier à l'écouter.
Sally Field était si déterminée à jouer le rôle de Mary Todd Lincoln qu'elle a fini par convaincre Steven Spielberg de la laisser auditionner. Il la trouvait trop vieille pour le rôle (20 ans de plus que Mary Todd). Devant l'abnégation de l'actrice, Spielberg organisa une audition en compagnie de Daniel Day-Lewis qui est venu d'Irlande exprès : « Il est si gentil qu'il n'a pas hésité à prendre un vol. Je l'aimerais toujours pour ça« , s'extasie Sally Field.
Le long-métrage se focalise essentiellement sur les 4 derniers mois de la vie d'Abraham Lincoln et son combat pour faire adopter le 13ème amendement (abolition de l'esclavage) par la chambre des Représentants : « Ce qu'il a accompli au cours de cette période est véritablement prodigieux. « , explique Steven Spielberg.
Le scénariste Tony Kushner a rendu une première version du scénario contenant pas moins de 500 pages ! « C'était l'un des scénarios les plus brillants que j'aie jamais lus – mais il était trop foisonnant, trop long et tout simplement irréalisable du point de vue cinématographique ».Il est vrai que plus  de 140 personnages s'entrecroisent dans ce portrait du célèbre président des USA .
Pour se préparer à l'incarner , Daniel Day-Lewis s'est plongé non seulement dans le livre qui a servi de base au scénario du film (« Team of Rivals ») mais a également effectué un travail de recherche gargantuesque (lectures d'articles, discours, biographies)
Bien que le film se concentre sur la vie politique d'Abraham Lincoln, Steven Spielberg n'en occulte pas pour autant sa vie familiale tumultueuse, entre une femme au caractère affirmé, la perte d'un de ses fils et la peur d'en perdre un autre à la guerre. Petite anecdote amusante, Mary Todd Lincoln avait déclaré à l'époque à propos de son mari : « Il sera président des États-Unis un jour. Si je ne le pensais pas, je ne l'aurais jamais épousé, car vous voyez bien qu'il n'est pas beau ».