Synopsis: Un ancien joueur se retrouve sous la tutelle d'un inspecteur des fraudes à l'assurance. On vous a prévenus, c'est l'enfer pour cet accro reconverti, et Dante n'est pas loin .
La fiche du film
Le film :
"Saint John Of Las Vegas"
Avec :
Steve Buscemi, Romany Malco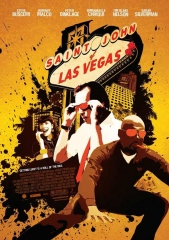 L'histoire
Après avoir beaucoup perdu, John (Steve Buscemi), décide d'en finir avec son addiction au jeu pour retourner à une vie « normale ». Il se retrouve sous la tutelle d'un inspecteur des fraudes à l'assurance qui l'envoie sur la route débusquer les fraudeurs. En chemin, ils rencontrent une série de personnages marginaux comme un militant nudiste, une strip-teaseuse en chaise roulante et une torche humaine de foire. Alors qu'il reprend confiance en lui, John réalise que ce n'est pas en évitant Las Vegas qu'il pourra en finir avec ses problèmes de jeu, et il décide finalement d'y retourner pour faire face à ses démons.
Après avoir étudié l'art dramatique auprès de John Strasberg, Steve Buscemi débute sa carrière en écrivant et en interprétant ses propres pièces de théâtre avec son ami, l'acteur et écrivain Mark Boone Jr.
En 1990, le film de gangsters « Miller's crossing » des frères Coen  marque le début d'une riche collaboration avec  Joel et Ethan Coen, qui lui offrent  des rôles marquants dans « Fargo » (1996) et « The Big Lebowski » (1998). Depuis sa performance de Mr. Pink dans « Reservoir dogs » (1992) de Tarantino, Steve Buscemi est rompu aux seconds rôles de crapules et d'arnaqueurs.Acteur emblématique du cinéma indépendant américain, il tourne avec plusieurs de ses fleurons dont  Jim Jarmusch (« Coffee and cigarettes »)
Fidèle au cinéma d'auteur, il ne dédaigne pas pour autant les productions plus commerciales, collaborant à deux reprises avec Michael Bay sur « Armageddon » (1998) et « The Island » (2005), ou donnant la réplique à Antonio Banderas dans « Desperado » (1995), « Spy kids 2-espions en herbe » (2003) et « Mission 3D Spy kids 3 » (2004), tous signés Robert Rodriguez. Steve Buscemi apprécie aussi  de passer derrière la caméra, dirigeant en 1996 Chloë Sevigny dans « Happy hour », film dans lequel il jette un regard généreux sur l'Amérique des laissés pour compte.
On retrouve cette humanité dans son oeuvre suivante, « Animal factory » (2001), une plongée âpre dans l'univers carcéral à laquelle participent Willem Dafoe et Edward Furlong. Son troisième long-métrage, « Lonesome Jim » (2005) se rapproche particulièrement de « Happy hou »r. Dans une approche intimiste, il filme Casey Affleck et Liv Tyler en mini-DV dans la dure province américaine.