Synopsis: La Pologne. Printemps 1981. L'époque est à la contestation. Quatre amis qui n'aiment rien tant que gratter leurs guitares et martyriser les fûts de batterie créent un groupe. Leur passion ? Le rock. Le punk rock, plutôt : Anarchy ! No future !
La fiche du film
Le film :
"All That I Love"
Avec :
Mateusz Kosciukiewicz, Olga Frycz
Genre :
Drame, Musical, Comédie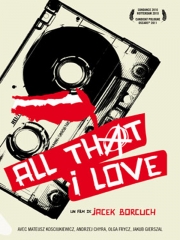 Révolte !Première gorgée de vin, première déception ,première révolte, premier  amour… Il y a un peu de tout ça dans cette histoire, qui raconte aussi en parallèle la grande Histoire de la Pologne quand au printemps 1981, le syndicat Solidarnosc enclenche le mouvement qui mènera à la liberté.
Dans ce climat de révolte quotidienne, quatre copains montent un groupe de pun-rock, ATIL pour « All that I love ». Le père du leader est militaire, et le leader tombe amoureux de la fille d'un syndicaliste.
Le distributeur français Marc Guidoni qui découvre le film au festival de Rotterdam dit avoir été profondément touché « par les résonances qu'il avait dans ma propre histoire. Né en 1967, je fais partie d'une génération qui a été adolescente pendant que la Pologne de Solidarnosc s'éveillait. […] Trente ans ont passé, mais les souvenirs de ces premiers émois militants sont intacts. De même que les souvenirs de la musique punk qui, sans que nous le sachions, traversait le rideau de fer. Musique devenue emblématique et que les jeunes générations redécouvrent aujourd'hui…»
C'est encore plus vrai pour le réalisateur, qui se souvient de l'époque de la loi martiale. «En réalité, c'était une époque incroyable : je me souviens des écoles fermées, de cette atmosphère révolutionnaire, de ce sentiment partagé que nous avions un ennemi commun et que si nous nous levions tous ensemble pour nous battre, nous pouvions gagner toutes les batailles. »

Un discours qui n'est pas sans rappeler le film de Bahman Ghobadi « Les chats persans » sur la force de la musique, au cœur d'une sourde résistance au pouvoir iranien, qui déjà interdit aux propriétaires de chats persans de les sortir dans la rue. Mais ici notre héros ne craint pas les foudres de la censure et ne cherche pas à quitter coûte que coûte un pays qui bien au contraire peut devenir à ses yeux, comme un paradis.
Simplement le punk rock qu'il arbore est très mal vu des autorités, qui un œil sur les manifestations de plus en plus réprimées, doit alors contenir cette autre vague de contestation. Le pouvoir limite la fabrication de vinyles, et interdit la formation de groupe : « Nous étions la voix d'une génération. Nous avons tenté non pas de nous opposer au système mais de vivre complètement en dehors de lui. Et je crois que nous avons réussi… »